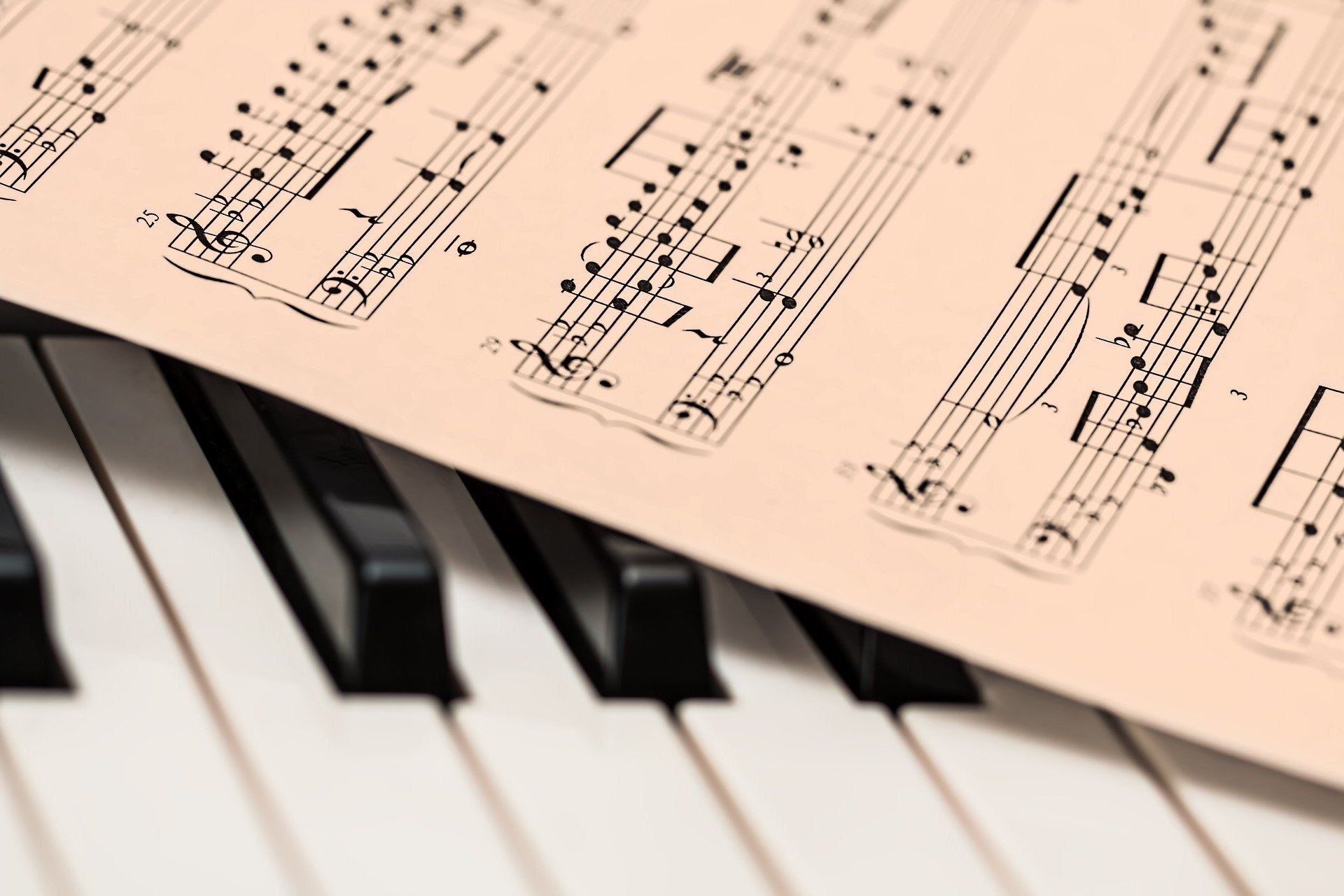 Due to programme changes, PULSE programme, including Reading sessions by publishers and educational offers by some choral organisations (VoxBazaar), was held on the online festival TV available free of charge on our website!
The educational programme, which runs parallel with the singers' programme, is very diverse and therefore appropriate for anyone: students, conductors, creators, educators and others who are interested in choral music.

The PULSE programme (formerly known as Conductors' and Composers' programme). Together with many colleagues from Europe and beyond, you can get to grips with hot topics in the choral world of today.
---
Workshops and lectures
Every day from 14.00 to 17.30 you'll be able to attend three different 1-hour lectures on the online festival TV.
| Time | Title | Mentor | Co-funded by EU | Video |
| --- | --- | --- | --- | --- |
| Saturday, 17. July, at 14.00 | Beyond Talent – Career Development for Musicians | Gal Faganel (SI) | EPIC, ECA-EC, Co-funded by the European Union Creative Europe Programme | Video |
| Saturday, 17 July, at 15.15 | Young Slovenian Composers | Ambrož Čopi (SI) | | Video |
| Saturday, 17 July, at 16.30 | "Tech session" - presenting tools and methods for online learning and rehearsing (e-learning, online live rehearsals) | Jim Daus Hjernøe (DK) | Training Leading Voices, ZIMIHC, Co-funded by the European Union Creative Europe Programme | Video |
| Sunday, 18 July, at 14.00 | Slovenian folk music | Urša Šivic (SI), Tomaž Simetinger (SI) | | Video |
| Sunday, 18 July, at 15.15 | Singing as an elixir of life: Singing Hospitals and Singing with people with Aphasia | Elke Wünnenberg (DE), Fanni Eckhardt (HU) | Training Leading Voices, ZIMIHC, Co-funded by the European Union Creative Europe Programme | Video |
| Sunday, 18 July, at 16.30 | Live rehearsal with Jamulus | Jim Daus Hjernøe (DK), Petra Limon (NL) | Training Leading Voices, ZIMIHC, Co-funded by the European Union Creative Europe Programme | Video |
| Monday, 19 July, at 14.00 | Neuroscience and arts: what art does to the brain | prof. dr. Zvezdan Pirtošek (SI) | Training Leading Voices, ZIMIHC, Co-funded by the European Union Creative Europe Programme | Video |
| Monday, 19 July, at 15.15 | An inspiring choir system in Slovenian schools and Choir pyramid in St. Stanislav's Institution | Inge Breznik (SI), Damijan Močnik (SI) | | Video |
| Monday, 19 July, at 16.30 | Presentation of a LoLa performance connecting musicians between Ljubljana and The Royal Academy of Music Aarhus/Aalborg, Denmark | Jim Daus Hjernøe (DK) | Training Leading Voices, ZIMIHC, Co-funded by the European Union Creative Europe Programme | Video |
| Tuesday, 20 July, at 14.00 | The Laban system for Choir conductors | Dominique Tille (CH) | Training Leading Voices, ZIMIHC, Co-funded by the European Union Creative Europe Programme | Video |
| Tuesday, 20 July, at 15.15 | Seniors in the spotlight | Silvija Pročkytė (LT), Monika Lojen (SI) | Training Leading Voices, ZIMIHC, Co-funded by the European Union Creative Europe Programme | Video |
| Tuesday, 20 July, at 16.30 | The Lost Boys of Singing - reflections on why boys do not simply join a children's choir and thrive | Joakim Olsson Kruse (SE) | | Video |
| Wednesday, 21. July, at 14.00 | Silicon Harmonies - What can choir leaders learn from high-tech startups? | Jaka Levstek (SI) | EPIC, ECA-EC, Co-funded by the European Union Creative Europe Programme | Video |
| Wednesday, 21 July, at 15.15 | Presenting the Winners of European Award for Composers 2020 | Jan Van der Roost (BE), Maarten Van Ingelgem (BE), Hans Helsen (BE), Vigdis Hansa Elst (BE) | | Video |
| Wednesday, 21 July, at 16.30 | Gospel music taught by rote | Anthony Leach (US) | | Video |
| Thursday, 22 July, at 14.00 | Barbershop Harmony - A Brief History | Doug Harrington (US) | | Video |
| Thursday, 22 July, at 15.15 | Musica Femina: repertoire by women composers | Maria Goundorina (BG/DE) | | Video |
| Thursday, 22 July, at 16.30 | Let music build bridges - Introduction of Superar and Cantania children's projects | Ottilia Dorner (HU), Elisenda Carasco (ES) | | Video |
Marked lectures of the PULSE Programme are included in different EU-(co)funded programmes: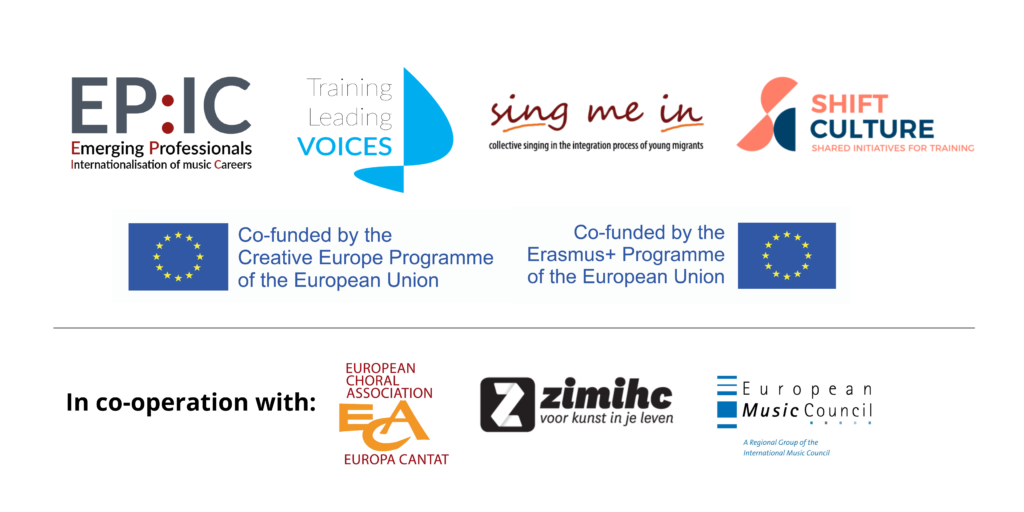 EPIC, Training Leading Voices, Sing Me In, SHIFT, Creative Europe Programme, Erasmus+
European Choral Association ECA-EC, ZIMIHC, European Music Council (click!)