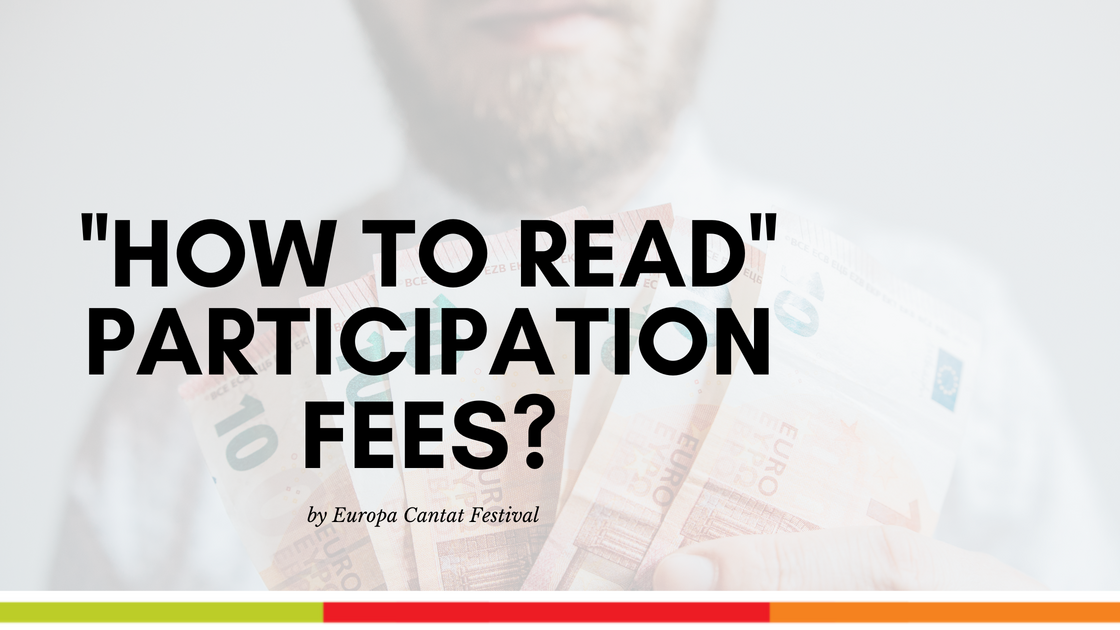 "How to Read'' Participation Fees?
13. October 2020
The information you have all been waiting for is here! Participation Fees are published HERE.
Before you start checking out the table, please read this article, which will help you understand its concept.
The Participation Fee is composed of four different factors – this basically means that your fee and the fee of your friend can be different. Before you start calculating, you should ask yourself the following questions:
1.) How many days will I spend at the Festival?
At the registration, which opens on 15th December 2020, you will need to choose a package deal: a full package deal (for 8 days) or a half package deal (for 4 days).
We highly recommend you stay with us for the whole 8-day experience. Otherwise, you can regret it! 😊
2.) How old are you?
The aim of the Europa Cantat Festival is to encourage the youth. This is why young participants have lower Participation Fees. The rule in this case is: a participant has to be under 27 years of age on July 17th 2021. This applies for all three Country Groups.
3.) Where do you live?
Since its beginnings, the European Choral Association ECA-EC has valued the solidarity principle, which regulates the level of Participation Fee depending on the country of origin. The countries are therefore divided in three groups (Country Group 1, Country Group 2, Country Group 3). Country Group 1 comprises those countries with the highest standard of living – consequently, the Participation Fee is the highest for the participants coming from these countries. Country Group 3 is the opposite – it unites the countries with the lowest standard of living, which is the reason the Participation Fee is the lowest. The Country Group 2 is somewhere in the middle.
Find the list of countries and the group they belong to HERE.
4.) Are you a member of ECA-EC?
Being a member of the ECA-EC brings you a discount on the Participation Fee. We wrote about it HERE.
---
The first part of the Participation Fee (Registration Fee) costs €60,00 (including VAT) per person, regardless of the membership status, Country Group or age of the participants. This sum must be paid before the application deadline, i.e. by 15th February 2021 to confirm the registration, and it will only be refunded under exceptional circumstances (for these exceptions, please see Force Majeure and Covid-19 related cancellation HERE).

The second part of the Participation Fee (festival ticket) must be paid by 15th May 2021. If the Participation Fee is not paid by the participant/group/choir by 15th  May 2021, the registration shall be considered cancelled.
There you have it – the table is now much more familiar, right?
Find it HERE – share it with you friends, let everybody know about the Europa Cantat Festival! 🙂

Love,
the Team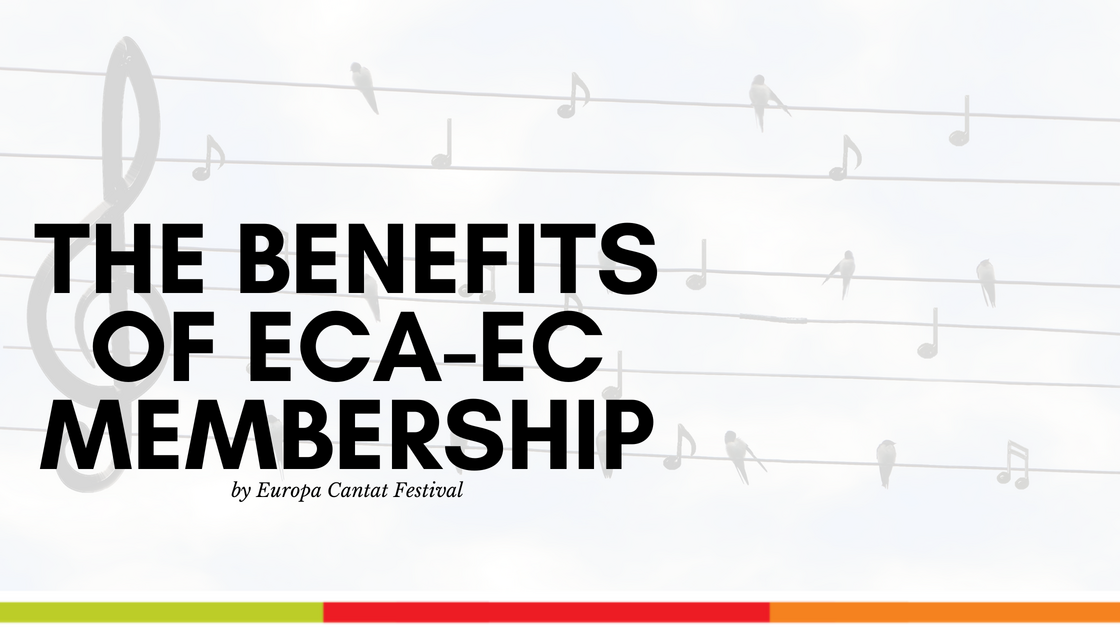 The benefits of a membership in European Choral Association
01. October 2020
The Europa Cantat Festival is a festival with more than 60-years long tradition and it belong to the European Choral Association (ECA-EC). Every three years the Association organises a unique Festival in a different country.
The ECA-EC is a network of organisations, choirs and individuals in the field of collective singing in Europe. Through the membership they represent more than 2,5 million singers, conductors, composers and managers in over 40 European countries and therefore reach out to more than 37 million people in continental Europe active in the field of collective singing. They aim to foster cooperation and mutual understanding between cultures, nations and individuals across social and political borders, to promote collective singing as tool for education and for community building.
Let's highlight some of their most attractive projects: Europa Cantat Junior, EuroChoir and World Youth Choir (Co-Founders).
The ECA-EC membership and the Participation fee
As we have already wrote, the festival Fees vary depending on:
The package of choice (Full or Half Festival, One-day deal, Musical Kindergarten)
Participant's country of residence
Participant's age (up to 27 or older)
Participant's membership in the ECA-EC
Long story short: being a member of the ECA-EC lowers the participation fee.
How to become a member? It's simple and it won't take you a lot of time. Click HERE and find all the information you need on becoming an ECA-EC member!
Soon, soon we'll publish the Participation Fees and the General terms and conditions.
Stay happy 😊,
the Team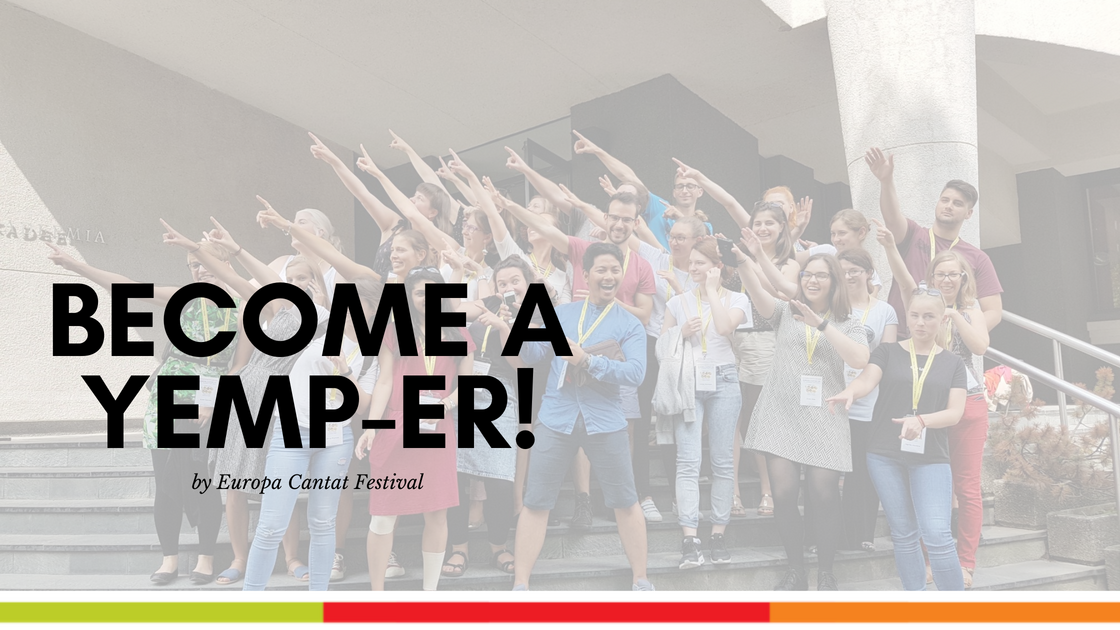 Become a YEMP-er!
24. September 2020
Are you young? Do you want to experience next year's Europa Cantat Festival as a member of the organisational team? Do you want to get international experiences of the field of event organisation?
Then – keep reading!
No EC Festival has ever passed by without the help of numerous volunteers and the wonderful YEMP-ers. But who are these lucky people anyway?
YEMP = Young Event Management Programme is designed for providing young and talented choral organisers with a unique training-on-the-job opportunity. It unites digital competencies, an intense course and work-based learning, all within the Europa Cantat Festival 2021. Learn from the best and become one of the 20 lucky enthusiasts who are to the make the cut and join the colourful international team.
APPLICATION OPENS ON DECEMBER 5TH 2020

Who can apply?
– Candidates aged between 18 and 30;
– Motivated individuals who are willing to make professional development in the field of international event organization.
– Candidates must be active speakers of English (or more languages).
---
Documents you'll need to submit with the application form:
Letter of motivation (1 page maximum):
– explaining your motivation to be involved in cultural event management
– explaining your interest in participating in the Young Event Management Programme
– listing the topics you are most interested in
– listing the skills you want to work on
CV indicating:
– studies, internships, and jobs
– Knowledge and expertise in the field of (choral) music
– organizational skills, knowledge in the field of (arts) management
– international experience
– computer skills
– earlier management courses (other choral management courses or study tours/ other management courses)
Photo
---
Back in 2018, I met 24 other YEMPers from all over Europe in a city called Tallinn, Estonia. I am feeling so many emotions as I write because I know I´ve made friends for life in this incredible opportunity to work at EUROPA CANTAT Festival!

To my YEMPers, coaches, and team, you reminded me what life is about and your energy, support, and immense love is still felt 6000 km away in Canada. I will never forget this. Thank you from the bottom of my heart and I know we will all reunite again in Slovenia 2021!

Amy Desrosiers, Canada
---
APPLICATION OPENS ON DECEMBER 5TH 2020

Read more about it HERE.
Please know that your submitted application does not guarantee your acceptance in the YEMP programme.
Your documents will be assessed by the YEMP Steering committee and we will be letting you know our decision in February 2021.In case of not making the YEMP programme team, you are more than welcome to apply as a volunteer!
If there are any confusions or you have additional questions, don't hestitate to contact Zala, the head of Volunteers and YEMP-ers – zala.horvatic@ecljubljana2021.si.
Can't wait for your applications!
Stay heatlhy,
the Team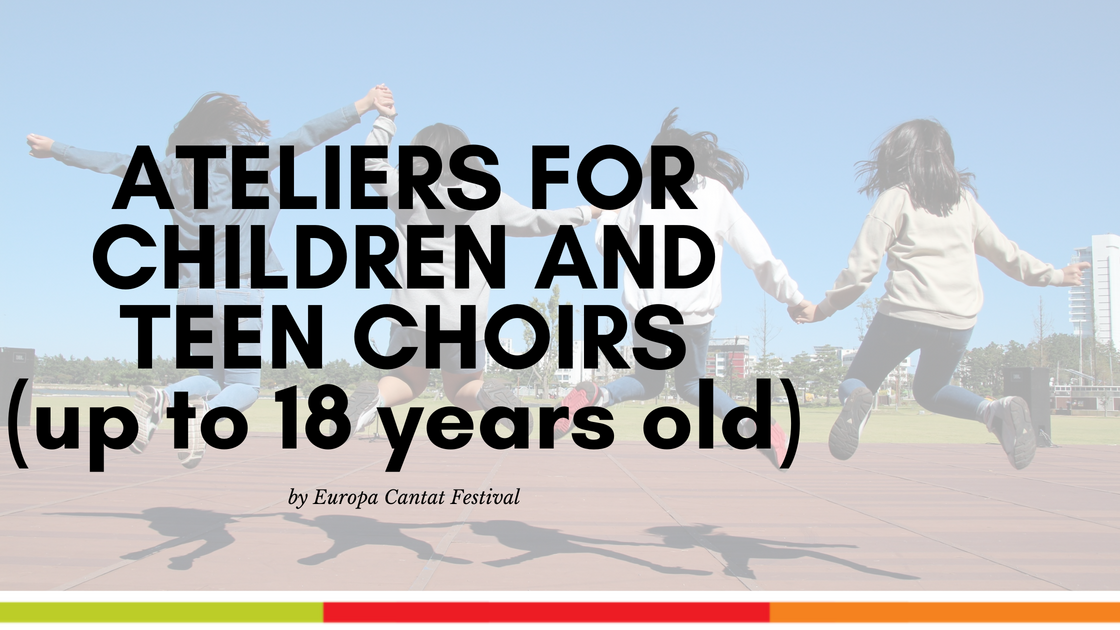 Ateliers for children and teen choirs
15. September 2020
Music festivals are generally aimed at adults, but what about children and teenagers? The Europa Cantat Festival welcomes you all!
This is a festival for learning, growing, connecting, and simply enjoying the moment. This is no competition so anyone is cordially invited to join, be it as individual singers, as groups (of friends, of singers from a choir, as a family) or as a choir (if the whole choir is interested in coming and making an additional performance at the festival).
As already pointed out – the Festival isn't intended only for adults. A big part of the programme is aimed at children and teen choir singers. Here is a short overview of the ateliers, designed especially for them.
LEVEL A ATELIERS (all)
An atelier for children (up to 12 years) who are animal-lovers (In fact, who isn't?) During the 4 days with Marleen De Boo, a Belgian conductor, you'll bring out the animal in you and transform your practice room into the 'singing safari'.
Hirvo Surva is an Estonian professor and a conductor with many years of experience. Since 2019, he has been the Chairman of the Estonian Choral Association. His atelier is dedicated to boys before mutation. Within 4 days, you'll intertwine singing and moving with different rhythms and musical genres. In other words, tonnes of fun!
Mother Earth – the inspiration to move young singers aged between 12 and 18. The atelier will be led by a Danish couple – Tine and Christian Fris-Ronsfeld, who have dedicated their lives to music. Tine is a well-known singer, composer and arranger, while Christian is the artistic director of Mariagerfjord Choir School, one of the most remarkable schools for contemporary music in Europe.
Another atelier for the youngest (U12). This time it is a 6-day atelier with a repertoire of traditional and original songs from the Mediterranean countries. ''We will dance and sing!'', promises Gloria Coma Pedrals, a Spanish award-winning children and youth choirs' conductor.
A very free, improvisation-based philosophy of creating music together. Interested? The don't miss the atelier for singers aged between 12 and 18 with Soila Sariola from Finland.
LEVEL B ATELIERS (sight-reading and preparation required)
Today the world connects wirelessly. Still, this isn't the only connection. In a 4-day atelier, Lyn Williams from Australia will try to connect singers aged between 12 and 18 through music by Ambrož Čopi and Dan Walker.
Are you into movies? Well, who isn't! But what's even better is the film music! This will be the main topic of B2, led by Sanne Valvanne, an innovative conductor and the founder of the Sing & Shine choirs from Finland. For children up to 12.
Children in opera? On stage?! Yes!
This is a most unique opportunity for singers between 10 and 15 who would like to try themselves in the world of opera!The 8-day atelier will be led by Teri Dunn, the artistic director of the Canadian Children's Opera Company.
LEVEL C ATELIERS (auditions and preparation required)
The children up to 12 years will focus on the passing nature of beauty, the silence, and the relationship between all sentient beings, all under the leadership of Yoshihisa Matthias Kinoshita.
Romance, nature and beauty inspire the conductor Petra Grassi from Trieste, Italy. She will conduct an atelier for young singers between 12 and 18 years, with an emphasis on the English, German and Slovenian composers of the 19th and the 20th centuries.
Each atelier will close with a performance (after 4, 6 or 8 days), which will consist of the repertoire rehearsed in the atelier.
---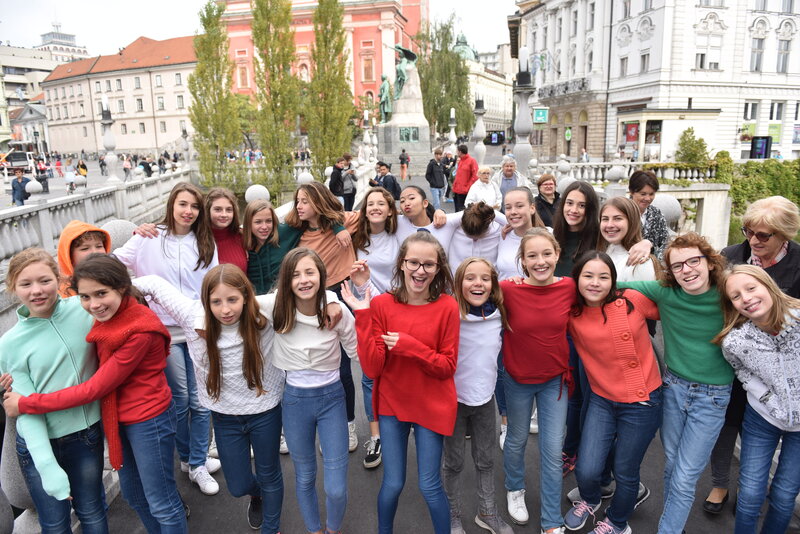 Parents, teacher, conductors, youth – don't miss the unique opportunity for any young singer! To learn from the best world-renowned mentors isn't something that happens every day.
Teachers and conductors: you can apply with your children or youth choir. During the atelier (9 am– 12 pm) the children will be looked after by both the mentor and the volunteers helping at the atelier, so you may join the ateliers that interest you. Tasty meals and music concerts aside, let's not forget the great evening performances! The festival will be an amazing experience for anyone, especially the children.
Parents: you can come to the festival as a family – in the morning you take part in an atelier, take your children to the music kindergarten and in the afternoon, you are welcome to attend concerts around the city, explore the city centre or simply relax on the banks of the Ljubljanica river and harmonize with the festival.
NB! U27 ticket holders get a special festival discount on the festival fee. More about that – soon!
Stay healthy,
Your Festival Team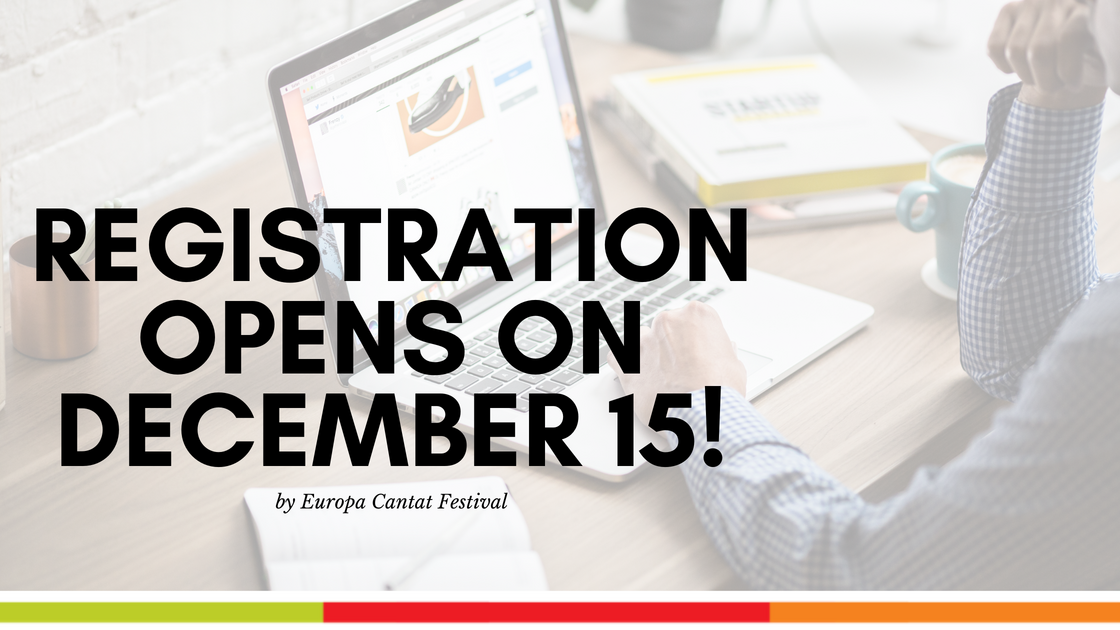 Registration opens on December 15
11. September 2020
Finally, we can share with you the information we all wanted to put down in our calendars – the registration for the Europa Cantat Festival 2021 opens on December 15 2020. On this day, the online application will be available on our website, where you'll be able to register as an individual, a group or a choir.
The registration will be open for two months, until February 15, 2021.
All additional information and instructions on how to register will be available soon. Until then take your time to decide on your favourite ateliers and don't forget to circle the date in your calendar! 🙂