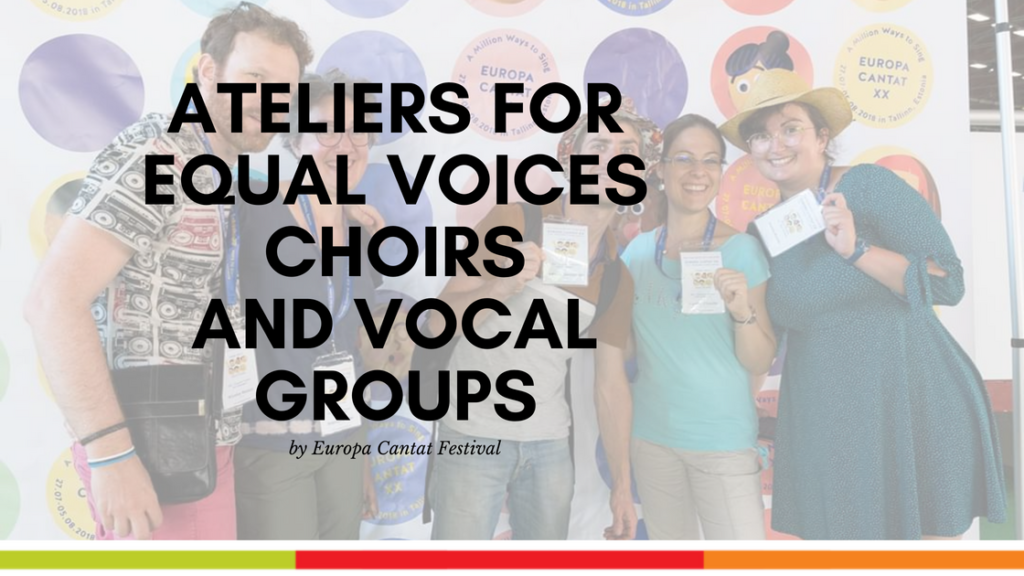 Ateliers for equal voices choirs (SSAA, TTBB) and vocal groups
11. November 2020
Europa Cantat Festival offers really diverse programme. Singers (individuals, families, group of friends, choir, vocal groups) can choose from rich repertoire, different genres in the ateliers led by world-renowned mentors.
Some of the ateliers are dedicated to equal voices choirs (SSAA and TTBB) and vocal groups. Here is a short overview.
Ateliers for equal voices choirs (SSAA and TTBB):
The 4-day atelier welcomes all women to sail together to the unique world of women composers. Realize yourself as a Natural woman! Led by Elisenda Carrasco Ribot from Spain.  
Sofia in Cigdem, a Greek and a Turk, will completely enchant you in 6 days with the traditional music and dances from the eastern Mediterranean.
Doug Harrington, an American, started out as a gospel and country singer with his three older brothers at the tender age of four. Becoming a world champion in Barbershop in 1989 helped launch his career as a coach. So, there is no one better to spend the 4 days learning about the barbershop music than him!
Ateliers for vocal groups:
Singer Pur is a German vocal group, going strong for more than 30 years. They're performing as special guests at the festival, but will also lead a 4-day atelier for vocal groups for 3-12 members. Groups will work with them separately and there will also be repertoire for everyone to sing together.
A 4-day atelier for pop/jazz vocal groups. The atelier will target rhythm, intonation and blending. You'll have 3 different mentors – one day with Jim Daus, another with Peder Karlsson and last two days with members of Accent.
Keep smiling,
the Team