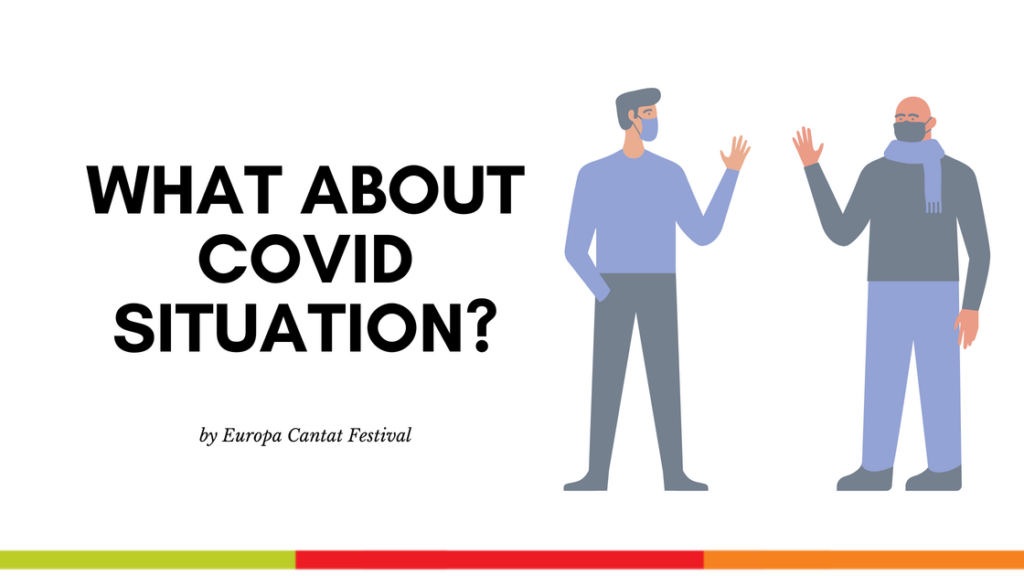 What about COVID situation?
08. January 2021
Oh, yes, its everywhere. The Covid-19 became our new reality and in the light of the current situation, we are well aware that many of you are wondering whether the Europa Cantat festival will be organised or not.
We are answering your top 3 questions considering Covid-19 situation:
1. WILL THE FESTIVAL BE POSTPONED FOR ONE YEAR DUE TO THE CURRENT SITUATION?
No, the festival will not be postponed. There are several reasons for that, but, most importantly, the festival will be the largest event during the Slovenian presidency of the European Union and the largest cultural event to mark the 30th anniversary of the country's independence. With the help of our partners and co-financiers, we decided to carry out the festival within the given time frame.
We continue to think positive – why should we think otherwise? We are aware of the current limitations, but remain positive. No one can predict the situation in the long run as changes happen on a daily basis. This is why we have no definite answer as to whether we will be able to organise the festival within the planned framework or only partially. But rest assured that we formulated various scenarios, which will help us make the final decision. The festival cannot be postponed to 2022 due to several different factors.
2. HOW WILL YOU TAKE CARE OF THE PARTICIPANTS' HEALTH AND SAFETY?
Regardless of the scenario, safety and health of the participants will be our absolute priority. We will follow all the guidelines and safety advice of the competent authorities and institutions.
But we already know that many events (more than initially planned) will be held outdoors, which actually sounds pretty amazing on a summer's day or eve!
Good experience from large summer events in 2020 inspire us and make us optimistic, which is why we believe the situation will be similar in the summer of 2021.
3. WHAT ABOUT REFUNDS IN CASE THE EVENT IS CANCELLED?
It should be pointed out that the registration process begins in December (from 15 December 2020 to 15 February 2021), and this step poses no threat to the participants.
We have actually set up a COVID‑19 cancellation policy, which allows for a carefree application and refund (except the €20 handling costs per person). Read more about this in our General Terms and Conditions, which can be found HERE.
---
If participants have to cancel their participation due to the following reasons related to Covid-19, they are entitled to a full refund of the Participation fee (registration fee & festival ticket), minus €20,00 handling costs per person:

– Participants come from a country that is considered a risk by the Slovenian government so that they cannot travel or would be forced to go into quarantine after entering the country;
– Slovenia is considered a risk by the government in the country of residence of the participants, and they would thus be forced to go into quarantine upon their return from Slovenia;
– A flight/bus /train was cancelled due to Covid-19.

In all cases participants will have to provide proof (printouts of official lists of risk countries, the proof of cancellation of travel) with an indication of the reason for cancelling.
The participant/group/choir can pay by non-cash payment (direct bank transfer, PayPal, or credit card). The administration fee is 2.5%
---
If you have any more questions, please contact our HELP desk:
registration@ecljubljana2021.si
+386 1 24 10 500
OFFICE HOURS
MON: 13:00 – 17:00
TUE: 15:00 – 19:00
WED, THU, FRI: 9:00 – 13:00