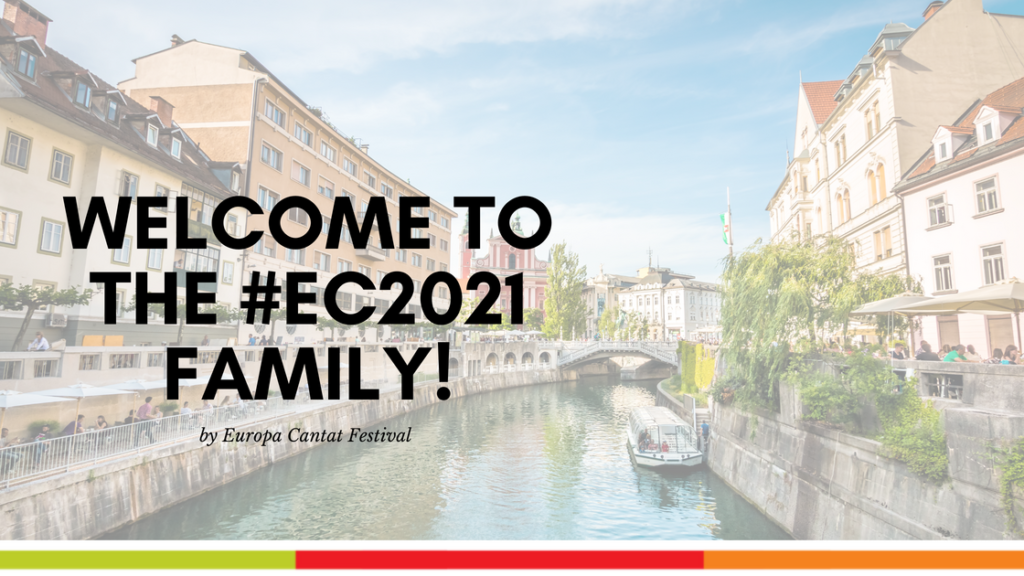 Welcome to the #EC2021 family!
22. February 2021
Dear friends of the Europa Cantat Festival!
Thank you for registering and paying the registration fee!
The number of registrations exceeded all our expectations as more than 2,500 participants from 27 countries registered for the festival.
We are honoured and happy to have so many of you join us. However, we recognise our responsibility and therefore put all our efforts in carrying out this festival safely.
What are the next steps?
In the upcoming month, the Music Commission will review all registrations and communicate the decision, which will be based on the three choices you indicated in the registration form and the organisational capabilities of the festival. You will be notified about the decision via e-mail (e-mail address of the group leader), most probably by the end of March.
In the meantime, our organising team will keep an eye on all the guidelines for measures and do their best to ensure safe and appropriate conditions for every single part of the program.
We are currently in contact with all relevant institutions and work hard to obtain their approval for carrying out the desired scope of the festival by the end of April.
We suggest that you wait with planning your trip a little longer and first check all the possibilities of travel and insurance to cover the risk of flight and hotel cancellation.
We thank you in advance for your patience and expect that we will be able to inform you about the payment of the festival ticket (the 2nd invoice) and food (the payment deadline is 15 May 2021) in the beginning of May. In case of any changes, you will be immediately notified.
Important information for all registered participants:

We cannot wait to meet you in person! In the meantime, please follow our Social Media, regularly check our Frequently Asked Questions, contact us via mail if you have any questions which are not answered there, and make sure to keep your information up-to-date on the website (registration) portal.

Please make sure to save the login username and password you entered to access the portal. On portal, you will be able to:
See and download the invoice for the payment of the first part (once we receive your payment, the invoice is available under the "Payment > My Purchases" tab)
Monitor the status of payments and due payments
Download the invoice for the payment of the second part (expected in April)
Update or correct the registration form (under the "Home>Show the entire registration" tab you can acces your registration form and update or correct it accordingly – this option will be available up until you carry out the second payment (by 15 May 2021 at the latest)
See and download the PDF version of your entire application
We will keep you fully informed about all events via the e-mail address of the group leader.
See you in July in Ljubljana! #singwithlove