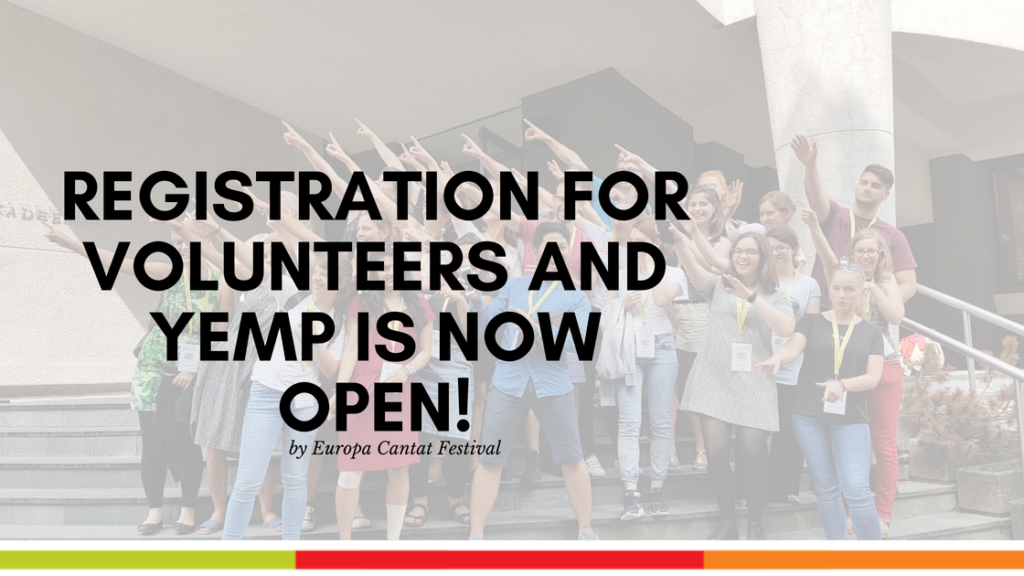 The registration for volunteers and YEMP is now OPEN!
05. December 2020
Today is THE day for everyone wanting to become a part of our team!
---
Apply now, click HERE!
---
The registration form is the same for both: volunteers & YEMP.
Watch the video we prepared for all thinking about joining us as volunteers 👇.
---
Volunteers
What are we looking for?
What are we offering?
You do not have any plans between 16th and 25th July 2021?
You can also be available for a few days before 16th July?
Do you love music in all its various forms?
Are you interested in meeting new people from all over the world?
Do you wish to join a Slovene event everyone sings praise of?
Are you +15 years old?
Admission free concerts and several workshops;
Flexible worktime arrangements;
A warm meal by a Michelin-plate restaurant, catering Jezeršek;
A boat ride on Ljubljanica river
A certificate for your professional portfolio;
Great time with professionals from all over the world;
Many more perks!
YEMP
Why become a YEMP-er?
Get involved in two-week work-based learning programme at one of the major global choral festivals;
Get tutored by accomplished mentors;
Try out different work fields (individuals will be selected based on their preference);
Attempt various learning techniques: online learning, workshops and lectures before the festival and on-the-job learning during the actual event;
Gain a unique and unparalleled experience!
Who can apply?
Candidates aged between 18 and 30;
Management majors or individuals with a keen interest in event organisation. Preference will be given to applicants involved in choral music;
Motivated individuals who are willing to make professional development in the field of international event organisation.
Candidates must be active speakers of English (or more languages).
Because the EU co-finances the YEMP project, the participants of the YEMP programme are provided food, accommodation and have the possibility to attend concerts and participate in other activities. However, YEMP-ers must cover their own travel costs to Ljubljana.
Read more on becoming a YEMP-er HERE.
We are looking forward to your registration!
Love,
the Team