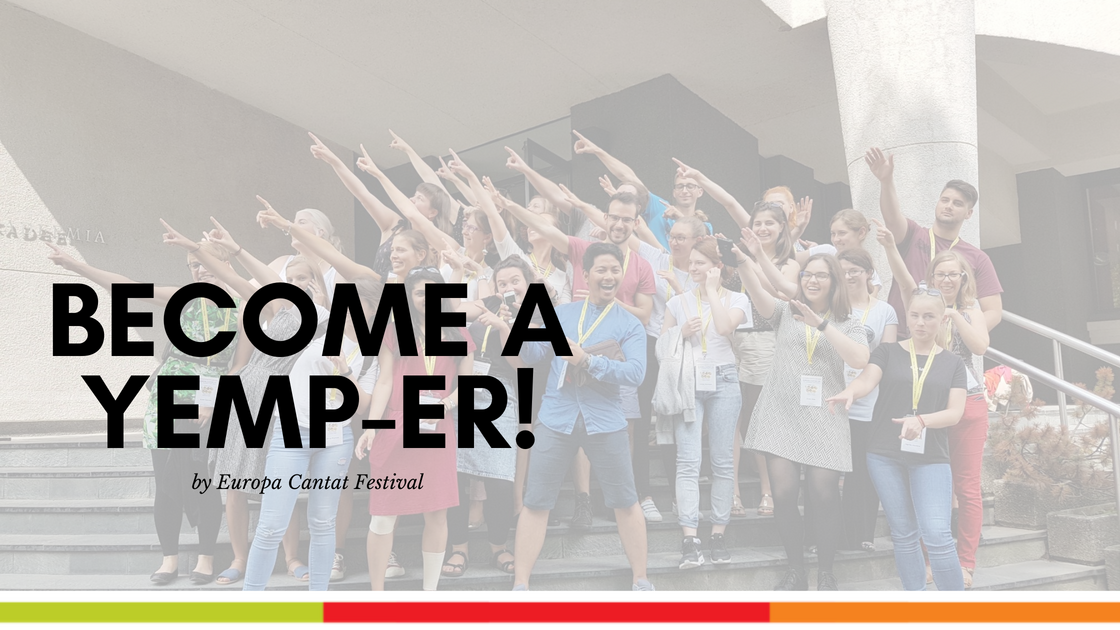 Become a YEMP-er!
24. September 2020
Are you young? Do you want to experience next year's Europa Cantat Festival as a member of the organisational team? Do you want to get international experiences of the field of event organisation?
Then – keep reading!
No EC Festival has ever passed by without the help of numerous volunteers and the wonderful YEMP-ers. But who are these lucky people anyway?
YEMP = Young Event Management Programme is designed for providing young and talented choral organisers with a unique training-on-the-job opportunity. It unites digital competencies, an intense course and work-based learning, all within the Europa Cantat Festival 2021. Learn from the best and become one of the 20 lucky enthusiasts who are to the make the cut and join the colourful international team.
REGISTRATION IS OPEN – click HERE

Who can apply?
  – Candidates aged between 18 and 30;
  – Motivated individuals who are willing to make professional development in the field of international event organization.
  – Candidates must be active speakers of English (or more languages).
---
Documents you'll need to submit with the application form:
Letter of motivation (1 page maximum):
– explaining your motivation to be involved in cultural event management
– explaining your interest in participating in the Young Event Management Programme
– listing the topics you are most interested in
– listing the skills you want to work on
CV indicating:
– studies, internships, and jobs
– Knowledge and expertise in the field of (choral) music
– organizational skills, knowledge in the field of (arts) management
– international experience
– computer skills
– earlier management courses (other choral management courses or study tours/ other management courses)
Photo
---
Back in 2018, I met 24 other YEMPers from all over Europe in a city called Tallinn, Estonia. I am feeling so many emotions as I write because I know I´ve made friends for life in this incredible opportunity to work at EUROPA CANTAT Festival!

To my YEMPers, coaches, and team, you reminded me what life is about and your energy, support, and immense love is still felt 6000 km away in Canada. I will never forget this. Thank you from the bottom of my heart and I know we will all reunite again in Slovenia 2021!

Amy Desrosiers, Canada
---
REGISTRATION IS OPEN – click HERE

Read more about it HERE.
Please know that your submitted application does not guarantee your acceptance in the YEMP programme.
Your documents will be assessed by the YEMP Steering committee and we will be letting you know our decision in February 2021.In case of not making the YEMP programme team, you are more than welcome to apply as a volunteer!
If there are any confusions or you have additional questions, don't hestitate to contact Zala, the head of Volunteers and YEMP-ers – zala.horvatic@ecljubljana2021.si.
Can't wait for your applications!
Stay heatlhy,
the Team