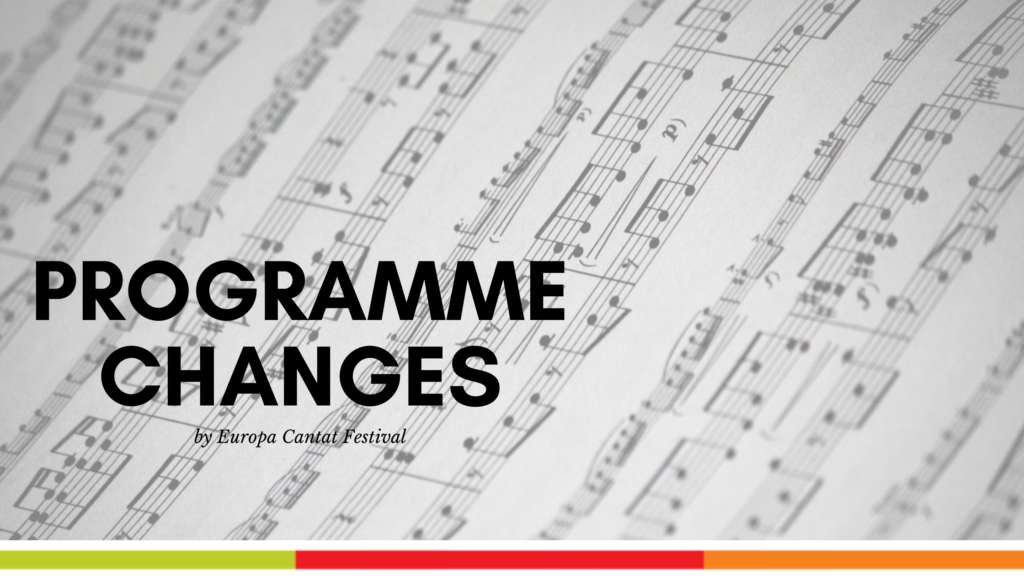 Programme changes of the Europa Cantat 2021
06. May 2021
While the pandemic and different measures aimed at curbing the spread of infections continue to shape our lives, the festival's diverse program has undergone several changes.
After months of hard work and efforts to construct various scenarios, we have found ourselves at a point where there are no more options, and we are obliged to make radical changes to our programme due to various risk factors.
We held decisive meetings of the Music Commission, the Steering Committee and the festival's core team and came to the following conclusions regarding the implementation of Europa Cantat 2021 in case Slovenia will be in the green zone by then:
Unfortunately, the very core of our festival, the ateliers of 4 days, 6 days and 8 days as well as the Study Tour will have to be cancelled completely. The Slovenian authorities do not wish to increase the risk of mass infections by gathering so many people from different countries in one place and letting them sing together in large groups for several days.
But don't worry! We are not giving up – no way! 😊
We will be able to implement some other parts of the project, LIVE IN LJUBLJANA or ONLINE.
Here are few hints of the programme:
Concerts of invited groups and the Listen to Slovenia cycle
A "Day of Choirs"
PULSE programme, including the publishers' Reading Sessions and educational offer of some choral organisations (VoxBazaar), which will be held online
A "Virtual Foyer", offering all registered participants and everybody else connected to Europa Cantat 2021 an online platform to meet old friends, make new ones, meet conductors, organise virtual meetings and much more; also, the social platform for our big Europa Cantat family
An online TV programme with interviews, videos from Ljubljana, background information, a look behind the scenes, impressions from live concerts, …
AND MUCH MORE!
Some of you may wonder why the festival will simply not be postponed to 2022, since this question has arisen several times over the last months. Unfortunately, this will not be possible since the funding is linked to the Slovenian EU Council Presidency in the 2nd half of 2021, which will not be postponed. There are further reasons within Slovenia and within the European Choral Association – Europa Cantat, which means that this option is not possible.
Despite the change, you are still kindly invited to Ljubljana, the Green Capital of Europe. You can take the opportunity to explore Slovenia and its beautiful treasures and iconic landmarks, all the way from the Alps to the Adriatic Sea, and enjoy great music at one of the Europa Cantat evening concerts. You can either make daily trips or embark on one of the guided tours of your choice.
Stay in touch, we'll tell you more about the new programme soon!
#singwithlove