ZOO-mania
Imagine flying like a bird, swimming like a fish, hopping like a kangaroo, goofing around just like a monkey and roaring loudly like a lion! All you need for this animalistic experience is your voice. Enjoy your journey through the singing safari!
Repertoire (SA)
Eva Ugalde (1973):
KUKU UÉ (Nicolás Guillén)

Greg Gilpin (1964):
SOMETHING TOLD THE WILD GEESE (Rachel Field)

Ludwig van Beethoven (1770–1827):
MARMOTTE, Op. 52/7 (Johann Wolfgang von Goethe)

Benjamin Britten (1913–1976):
FRIDAY AFTERNOONS, Op. 7/3 (Jane Taylor)
3. Cuckoo

Uli Führe (1957):
KING LUI IS THE CHIEF (THE JUNGLE ROCK 'N ROLL) (Uli Führe)

AT BIRTH THE KANGAROO

Andrej Makor (1987):
PTICE (Tone Pavček)

The participants will be able to attend the atelier with original scores only. The use of photocopies shall not be permitted. We will offer affordable set of sheet music specified by the mentor of the atelier. The participants will be able to purchase them only after receiving the confirmation of participation in the chosen atelier. The link to the online store will be published here in April 2021.
Mentor
Marleen De Boo (BE)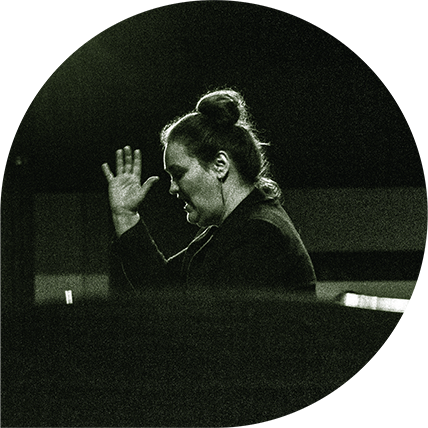 Marleen De Boo holds an MA in Music Pedagogy and Choral Conducting. She is a lecturer at the Royal Conservatory of Ant-werp, where she teaches "Children- and Youth Choir Conducting" among other courses. De Boo is also the artistic direc-tor of VZW Waelrantkoren, a non-profit organisation of eight choirs, four of them under her direction. Her conducting span covers different age groups with strong focus on pedagogical aspects of choral singing and children, as seen from her participation in international competi-tions and festivals with Youth Choir Wael-rant. Though De Boo is an adjudicator for national and international choral compe-titions, her main drive remains coaching singers and show amateurs, especially children, and passing onto them the beau-ty of choral music.