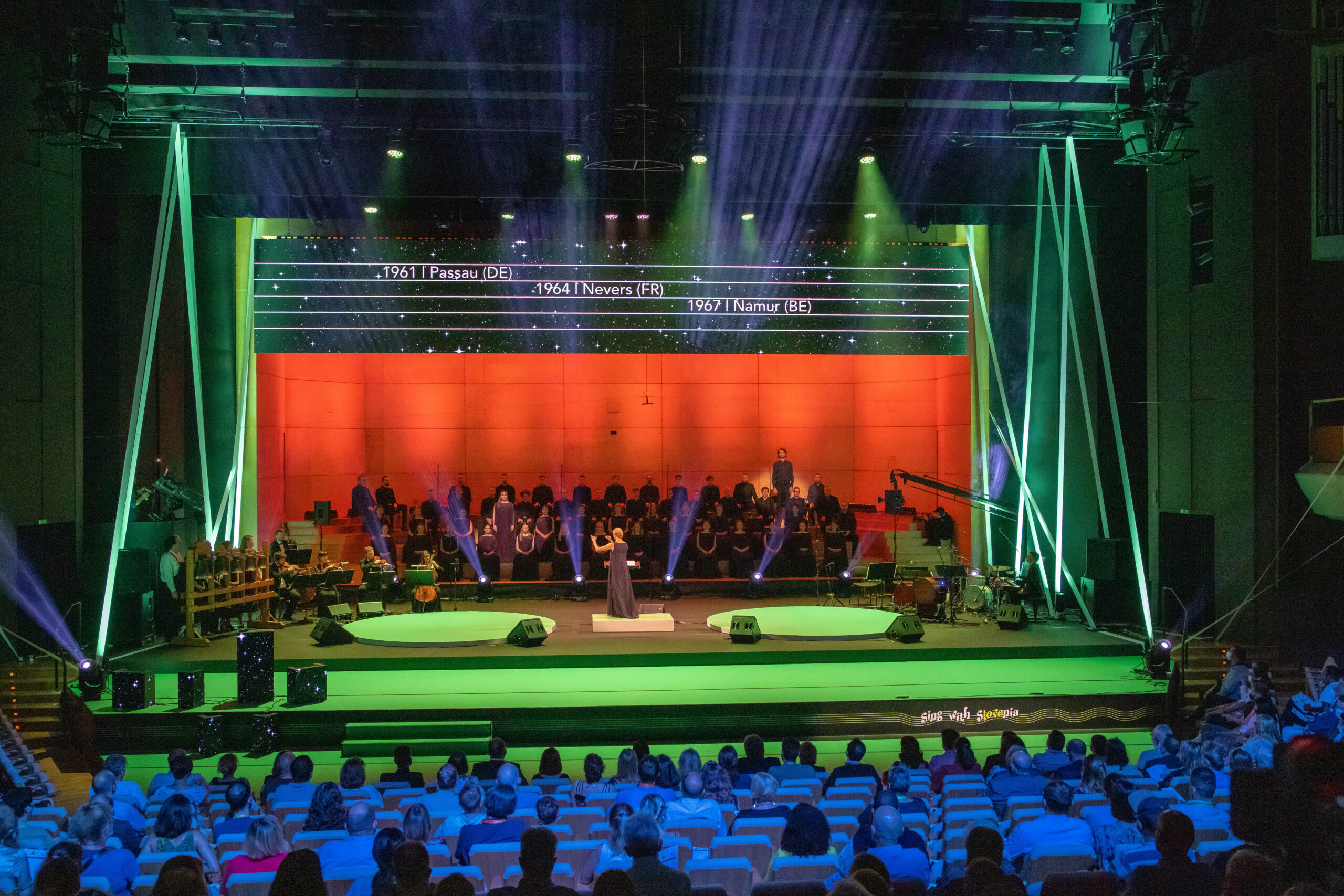 Opening Ceremony – SOLD OUT
IMPORTANT NOTIFICATION
Opening Ceremony is taking place at the substitute venue: Cankarjev dom, Gallus hall, 21.00
Date: Saturday, 17 July 2021 at 21.00
Venue: Kongresni trg Square
Substitute venue and hour (in the case of rain): Cankarjev dom, Gallus hall, 21.00
Tickets: SOLD OUT!

Due to the live Slovenian national TV broadcast, we kindly ask all visitors to take their seats 15 minutes before the start.
REPERTOIRE
Arvo Pärt (1935): KUUS KUUS, KALIKE (Estonian lullaby); Universal Editions
BELL RINGING MELODIES FROM SLOVENIA
Karol Pahor (1896–1974): PA SE SLIŠ' (folksong from Primorska, West Slovenia); Astrum
Katarina Henryson (1964): AJ, ZELENA JE VSA GORA (folksong from Bela krajina, South East Slovenia), first performance; Unpublished
Zvezdana Novaković (1985): ONE DVI NARANČE (folksong from Istria, South West Slovenia), first performance; Unpublished
Jay Ashby: DA JÖRA TA BANERINA (Slovene folksong from Resia Valley, IT), first performance; Unpublished
Lojze Lebič (1934): VISOKI REJ (folksong from Carinthia); JSKD
Christian Meister (1982): ZREJLO JE ŽITO (folksong from Prekmurje, North East Slovenia), first performance; Unpublished
Jacobus Handl Gallus (1950–1991)/Bojan Adamič (1912–1995): MUSICA NOSTER AMOR, fanfara; Unpublished
FORMAL SPEECHES
Mr. Carlo Pavese, President of ECA - EC and Ms. Metka Šošterič, Acting Director of JSKD,
Mr. Vasko Simoniti, Minister of Culture,
Mr. Borut Pahor, President of Slovenia and Honorary Patron of the Festival.
Jacobus Handl Gallus (1950–1991): MUSICA NOSTER AMOR, M:28; MAMS SAZU LjubLjana
Edward Elgar (1857–1934)/JohnCameron (1944): VARIACIJE ENIGMA, Op. 36 (from the Office of the Dead); IX: Nimrod/Lux aeterna; JWPepper
Lojze Lebič (1934): VEM, DA JE ZOPET POMLAD (N.N.); JSKD
Sting (1951)/Heike Beckmann (1959): FIELDS OF GOLD (Sting); Singer Pur
Freddie Mercury (1946–1991)/Tilen Slakan (1993): SOMEBODY TO LOVE (Freddie Mercury), first performance; Unpublished
soloists: Lea Rihter, Sandra Rihter, Lavra Zupančič, Vid Sinigoj, Alex Centa, Žan Rojko
OPENING CEREMONY
Mr. Raul Talmar, Artistic Director of the previous Festival in Tallinn, Estonia
Mr. Dejan Crnek, Vice-Mayor of the City of Ljubljana
Ludwig van Beethoven (1770–1927)/ Damijan Močnik (1967)/ Anže Vrabec (1989): ODE TO JOY (Johann F. Schiller, slov. translation Pavel Oblak), first performance; Unpublished
ARTISTS
Saint Nicholas Choir Litija, conductor Helena Fojkar Zupančič,
Vocal group Singer Pur (DE),
Vocal soloists: Katarina Heyrison (SE), Kim Nazarian (ZDA),
Vocal-instrumental group: Zvezdana Novaković (vocal, baraban), Marino Kranjac (vocal, pipe), Sonca Menart, Jasna Žitnik, Davor Jermam, Jošt Derlink,
Mengeš bell ringers: Uroš Urbanija, Nataša Urbanija, Stane Šimenc, Ana Pišek, Ivanka Koncilja in Marta Mehle,
Fanfare: Matej Kravcar, Dominik Rus, Jure Močilnik, trumpets, Andrej Sraka, Tine Plahutnik, Niko Mir, trombones,
String Quintet: Žiga Faganel in Verena Rojc, violins, Roberto Papi, viola, Alja Mandič Faganel, cello, Petar Brčarević, double bass,
Jazz Quintet: Anže Vrabec, piano, Bruno Domiter, percussion, Miha Koren, bass, David Jarh, trumpet, Tadej Tomšič, tenor saxophone,
Electric guitar: Miha Meglič
Music concept: Mihela Jagodic in Damijan Močnik,
Director, scriptwriter and set designer: Matej Filipčič,
Moderator: Boštjan Romih,
Videographer Andrej Intihar,
Stylist: Slavka Pajk,
Lighting design: Nikola Podlesnik,
Sound design: Danilo Ženko.