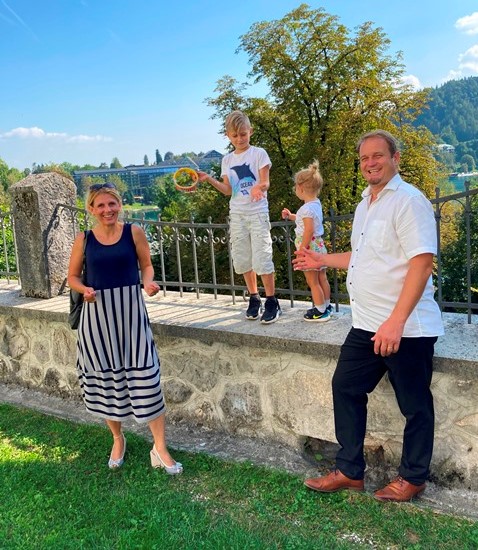 CHANGE: Due to bad weather forecast, the event will be held in the Slovenian Philharmonic hall, instead of Novi Trg Square. The number of free seats is limited.
For more information write to doremi@ecljubljana2021.si
Warm up your vocal cords, get your distant cousins twice removed to join you, make sure one more time that your grandma gets the date right, and apply for the Familyvision show! The stage awaits!

The performance will take place in the Slovenian Philharmonic on Saturday, 17 July at 6 PM. We selected ensembles who will each perform a versatile repertoire - check below!
REPERTOIRE & FAMILIES
Vocal group Breznik, Slovenj Gradec
Oskar Dev (1868–1932): ČEJ SO TISTE STEZICE (folksong from Rož, Carinthia)
Pavel Kernjak (1899–1979): O TEBI SANJAM (Pavel Kernjak)
Franc Šegovc (1937): PESEM VEČNA JE (Franc Šegovc)
Quartet Nagode, Vrhnika
Amanda McBroom (1947): KAJ JE LJUBEZEN (The Rose) (Amanda McBroom, Slovene translation Katja Gruber)
James E. Moore (1951): AN IRISH BLESSING (Irish traditional)
Jože Potrebuješ (1968)/Kvartet Štiglic: BISERI SREČE (Marko Vozelj)
Family Kokot, Markovci pri Ptuju
Jacques Offenbach (1819–1880): BARCAROLLE (Jules Barbier)
Stig Anderson, Björn Ulvaeus, Benny Andersson/Ernest Kokot(1973): MY LOVE, MY LIFE (Abba)
Slavko Avsenik (1929–2015), Vilko Ovsenik (1928–2017)/Ernest Kokot (1973): MEGLE V KOTANJAH (Elza Budau)
Quartet Štiglic, Ljubno ob Savinji
Kvartet Štiglic: STUDENČEK (Slovenian folksong)
Slavko Avsenik (1929–2015), Vilko Ovsenik (1928–2017)/Slavko Avsenik jr. (1958): PLOVI, PLOVI (Ferry Souvan)
Pat Ballard (1899–1960): MISTER SANDMAN (Pat Ballard)
Trio Kobal sisters, Ajdovščina
Ubald Vrabec (1905–1992): ZDRAVLJICA (France Prešeren)
Nathan Evans (1994): WELLERMAN (New Zealand folksong)
Vinko Vodopivec (1878–1952): ŽABJA SVATBA (Josip Stritar)
Quartet Strmole, Trebnje
Blaž Strmole (1988): SPOMINČICE (Hungarian folksong)
Urban Koder (1928–2019)/Blaž Strmole (1978): CVETJE V JESENI (Blaž Strmole)
Tadej Hrušovar (1947–2020): DAN LJUBEZNI (Dušan Velkaverh)