National Youth Choirs & EuroChoir
In one voice: Concert of joint Catalan, Austrian and Slovenian youth choirs
National Youth Choirs are choirs with excellent young singers selected from a specific region or country. In Ljubljana, we are looking forward to listen to Catalan, Austrian and two Slovenian Choirs, led by renowned Latvian conductor Māris Sirmais.
The choirs will rehearse together in Ljubljana for four days and then perform a final concert.

They will present the highlights of contemporary Baltic choral music.
Concert: Tuesday, 20 July 2021 at 17.00

Repertoire:
Austrian National Youth Choir, conductors Oliver Stech, Florian Maierl (AT)

Chamber Choir of the Academy of Music of the University of Ljubljana, conductor Sebastjan Vrhovnik (SI)

Catalan National Youth Choir, conductor Pere Lluís Biosca (ES)

Chamber Choir of Conservatory of Music and Ballet Ljubljana, conductor Ambrož Čopi (SI)

Conductor of joint choirs Māris Sirmais (LV)

Hugo Wolf (1860–1903): Sechs geistliche Lieder/ No. 3 RESIGNATION

Damijan Močnik (1967), arr.: ZARJA (ljudska / Three Slovene Folk Songs of Dawn)

Manuel Oltra (1922–2015): JOAN DEL RIU (ljudska / traditional)

Samo Vovk (1989): TA NA SOLBICI (S. Vovk, B. Grahor)

Peteris Vasks (1946): LAUDATE DOMINUM

Raimonds Tiguls: MOONLIGHT SOUND DESIGN

Eriks Ešenvalds: RIVERS OF LIGHT

Valts Puce: PSALMU BURTNICA
III. QUARE TURBABUNTUR GENTES
IV. DOMINUS PASCIT ME

Venue: Cankarjev dom
EuroChoir – uniting young European singers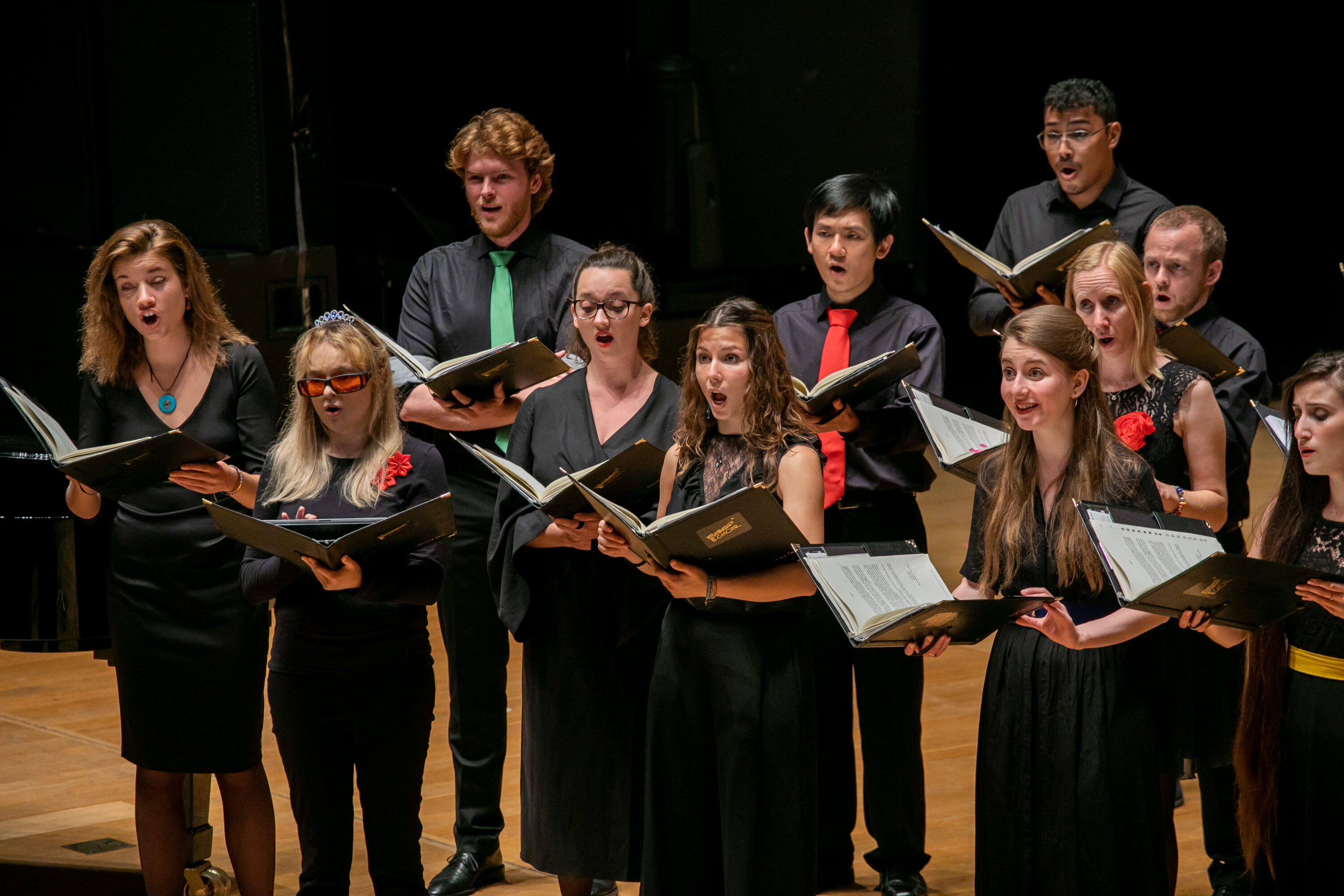 Celebrate Europe through choral singing – EuroChoir is a unique choral event organised by the European Choral Association – Europa Cantat every year in a different country. Initiated in 1982, EuroChoir offers an opportunity for young singers to get together for 8 days and rehearse a challenging programme with two renowned conductors, improve their vocal skills with a vocal trainer and present the results of their work in public concerts. This special choir project, which will take place in Slovenia this year, aims to promote European choral music among young singers and encourage cultural exchange within Europe.
Concert: Wednesday, 21 July 2021 at 19.00

Repertoire:
Conductors: Bernie Sherlock (IE), Yuval Weinberg (IL/DE)

The concert programme is a selection from the programme of their singing week in Ljubljana from 11-21 July:

Raymond Murray Schafer (1933): MAGIC SONGS
Edition Arcana

Ralph Vaughan Williams (1872–1958): THREE SHAKESPEARE SONGS (William Shakespeare)
CPDL
1. Full Fathom Five
2. The Cloud – Capp'd Towers
3. Over Hill, Over Dale

John Høybye (1939): THE MAGIC PAINT BRUSH (kitajska pripovedka, Edward Broadbridge)
Edition Cantando Musikkforlag

Maarten Van Ingelgem (1976): ELEMENTARY SEASONS: 3. AUTUMN SOILS (Jos Stroobants);
Euprint

Johannes Brahms (1833–1897): DREI GESÄNGE, op. 42
1. Abendständchen (Clemens Brentano)
3. Darthulas Grabesgesang (Ossian/Johann Gottfried Herder)
CPDL

Pärt Uusberg (1986): FAIRY'S LULLABY (William Shakespeare);
Estonian Music Information Centre

Ola Gjeilo (1978): UNICORNIS CAPTIVATOR (N. N.)
Edition Walton Music

OLD HEBREW HYMN

Venue: Cankarjev dom