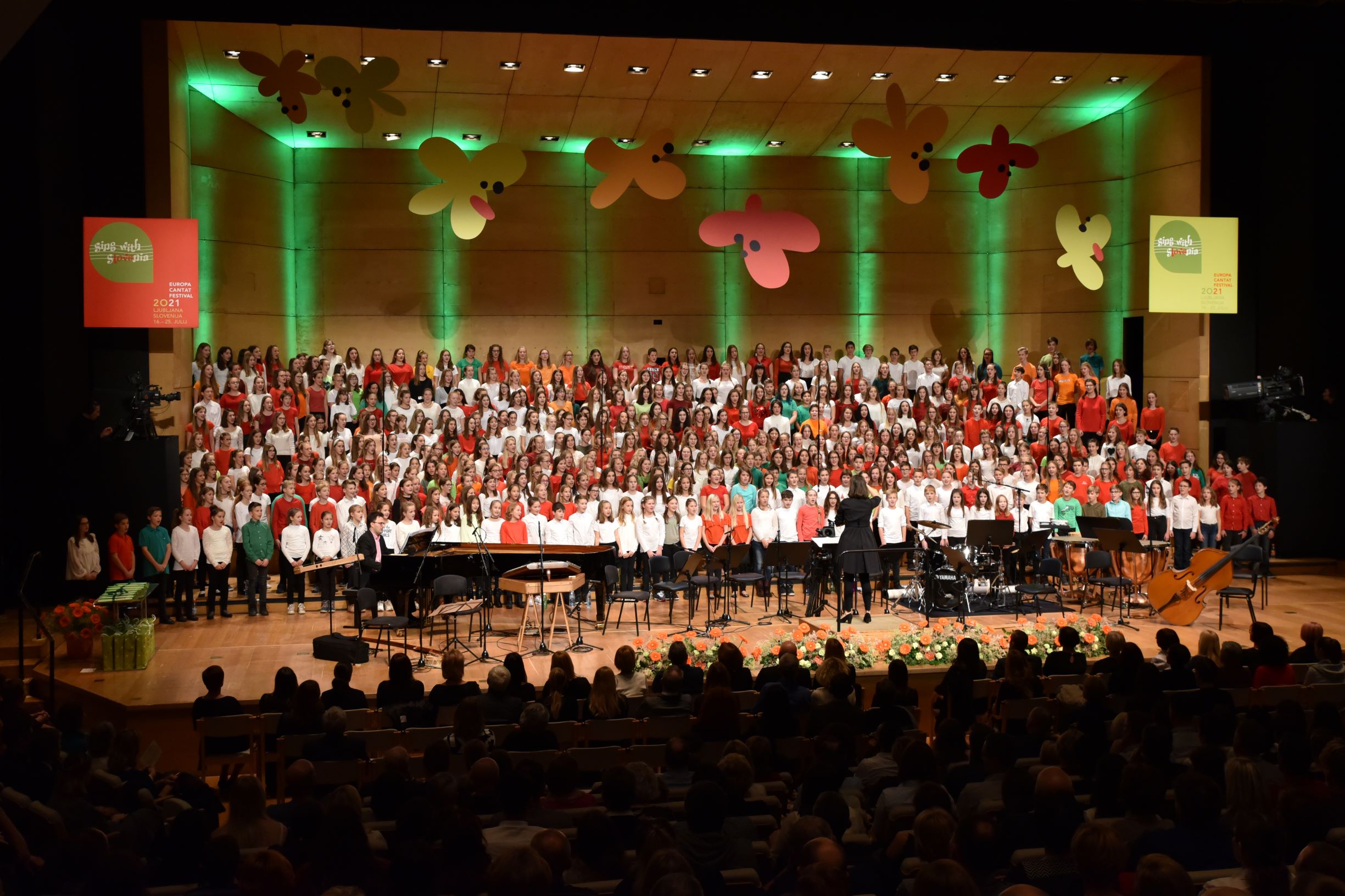 Listen to Slovenia Concerts
"It's now or never!" sang Elvis Presley, probably knowing at EC Ljubljana 2021 would welcome its visitors with an extraordinary opportunity to familiarise themselves with the rich choral tradition of a country that has a huge coeur or is it choir? The beat (we can't stop ourselves) will be felt at a series of concerts where choirs, ensembles and bands will perform the creme de la créme of Slovene choral music. We are certain that our choir music will become your coeur music and perhaps even the new core music of your choral practice.

The event is dedicated to the 30th anniversary of Slovenia's independence!

The Slovenian Philharmonic Choir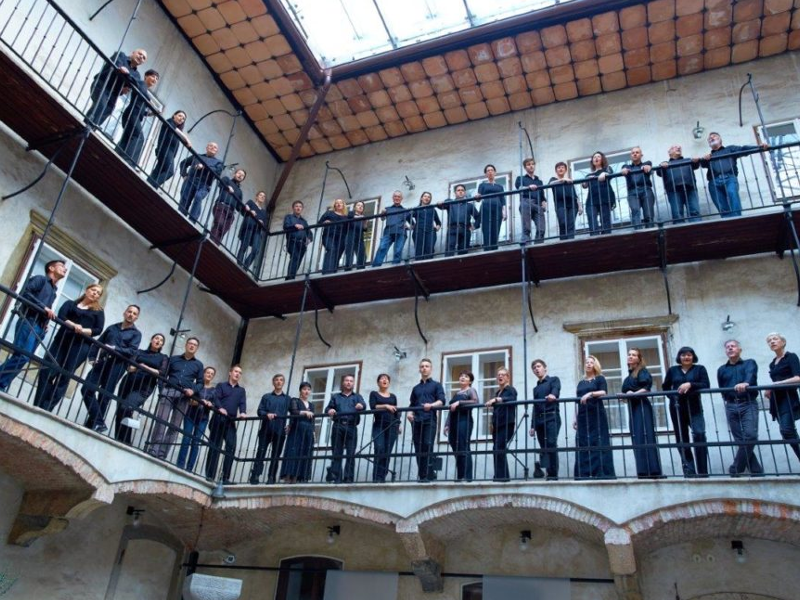 The only Slovenian professional a cappella choir, celebrates its 30th Anniversary this year and is a true promoter of Slovenian music of all time periods. The choir performs a selection of choral pieces from all over the world with the most famous European choral conductors.
The concert programme offers less known choral music by contemporary Swedish composers and music with Mediterranean and Latin-American temperament.
Concert: Wednesday, 21 July 2021 at 17.00

Repertoire:
THE BREATHING OF THE WORLD
Dirigent: Gary Graden

Sven – David Sandström (1942-2019): TE DEUM (Ambrosian Hymn, excerpt; from Anglican book of hymns, excerpt), 2008
Gehrmans notförlag

Agneta Sköld (1947): LET YOUR LIGHT COME (Psalm 42:1-2, 43: 3-4), 2019
Faber Music

Anders Hillborg  (1954): THE BREATHING OF THE WORLD (Anders Hillborg), 2019
Faber Music

Agneta Sköld (1947): I DENNA LJUVA SOMMARTID (Paul Gerhardt, Joachim von Düben), 2010
Faber Music

IBERO-AMERICAN FLAVORS
Conductor: Josep Vila in Casañas

P. Anselm Ferrer (1882–1969): AVE MARIA (prayer)
Montserrat Monestry, unpublished

Josep Vila i Casañas (1966): MISSA SANCTUS-BENEDICTUS (Missale Romanum – Ordinarium Missae)
1. Kyrie
Ficta

Manuel Massotti Littel (1915-1999): AL PAÑO FINO (Andalusian folksong)
Unpublished

Miguel Matamoros (1894–1971)/Electo Silva (1928–1917): JURAMENTO (Miguel Matamoros)
Ed. Music de Cuba

Carlos Guastavino(1912-2000): SEIS INDIANAS
1. Gala del día (Arturo Vazquez)
6. Una de dos (Juan Ferreyra Basso)
Ricordi Americana

Xavier Montsalvatge (1912-2002): TRES CANCIONES NEGRAS (Ildefonso Pereda Valdés)
2. Canción de cuna para dormir a un negrito
3. Canto negro
Peermusic

Venue: Cankarjev dom, Gallus Hall
St. Stanislav Girls' Choir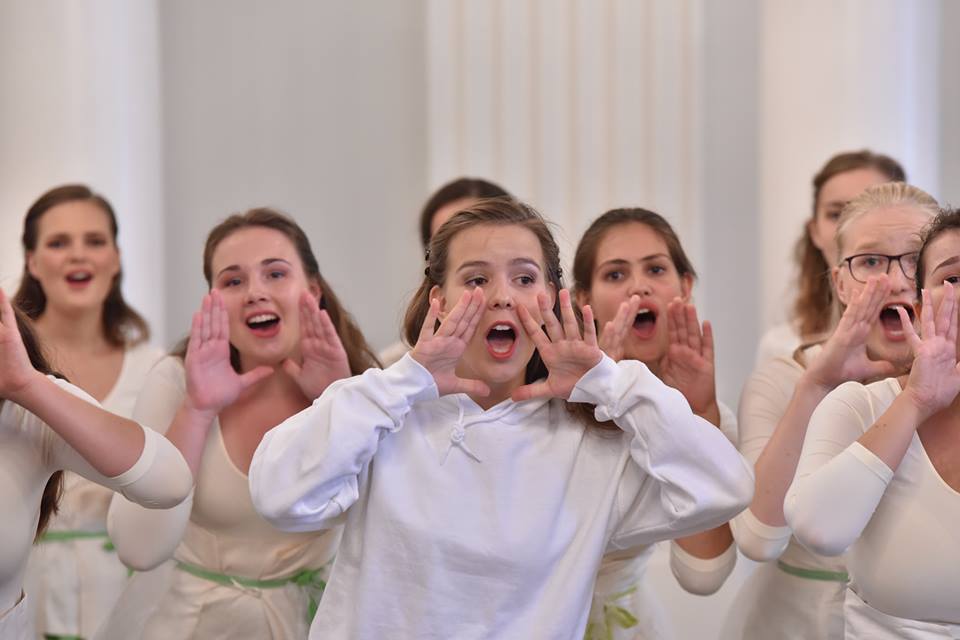 This is one of the most internationally recognisable Slovenian choirs at the moment, their performances include interesting stage presentations of compositions.
They were chosen to perform at two of the most internationally recognizable events for choral experts - the IFCM World Choral Symposium 2017 and the ACDA 2018 National Convention (one of the five non-American invited choirs),
Concert: Wednesday, 21 July 2021 at 21.00

Repertoire:
Damijan Močnik (1967): BOG DAJ, BOG DAJ (Slovenian folksongs from Bela krajina, South East Slovenia)  
Astrum 

Ambrož Čopi (1973): … TU ALBO TO POJÜTRANJO (Slovenian folksongs from Resia Valley, IT)  
3. Da lipa ma! Ke bëj na jë? 
Astrum 

Jacobus Handl – Gallus (1550–1591): PUERI CONCINITE, OM 1/58 (​medieval Christmas carol) 
MAMS SAZU, Ljubljana 

Ambrož Čopi: AVE MARIA (prayer)   
Sulasol  

Hrabroslav Volarič (1863–1895: DIVJA ROŽICA (Simon Jenko) 
ZKOS 

Jakob Jež (1928): IGRAJ KOLCE  (South East Slovenia) 
JSKD 

Samo Vovk (1989): TA NA SOLBICI (S. Vovk, B. Grahor; tranlation into dialect of Resi Valley L. Jenče, S. Paletti, M. Šekli)  
samozaložba 
*** 
Thomas Jennefelt (1954): NOVIORI ANI  
Gehrmans Musikförlag   

Eriks Ešenvalds (1977): ONLY IN SLEEP (Sara Teasdale) 
Musica Baltica 

Donald Patriquin (1938): AH! SI NOM MOINE VOULAIT DANSER! (Canadian traditional) 
Earthsong 

Paul Caldwell, Sean Ivory: AIN'T NO GRAVE CAN HOLD MY BODY DOWN (gospel) 
Earthsong 

Matti Hyökki (1946): ON SUURI SUN RANTAS AUTIUS (Finnish folksong) 
Fennica Gehrman 

Pentatonix/Mark Brymer: SING! (Pentatonix) 
Hall Leonard 

Venue: Cankarjev dom, Gallus Hall
Megaron Chamber Choir & Chamber Choir of Conservatory of Music and Ballet Ljubljana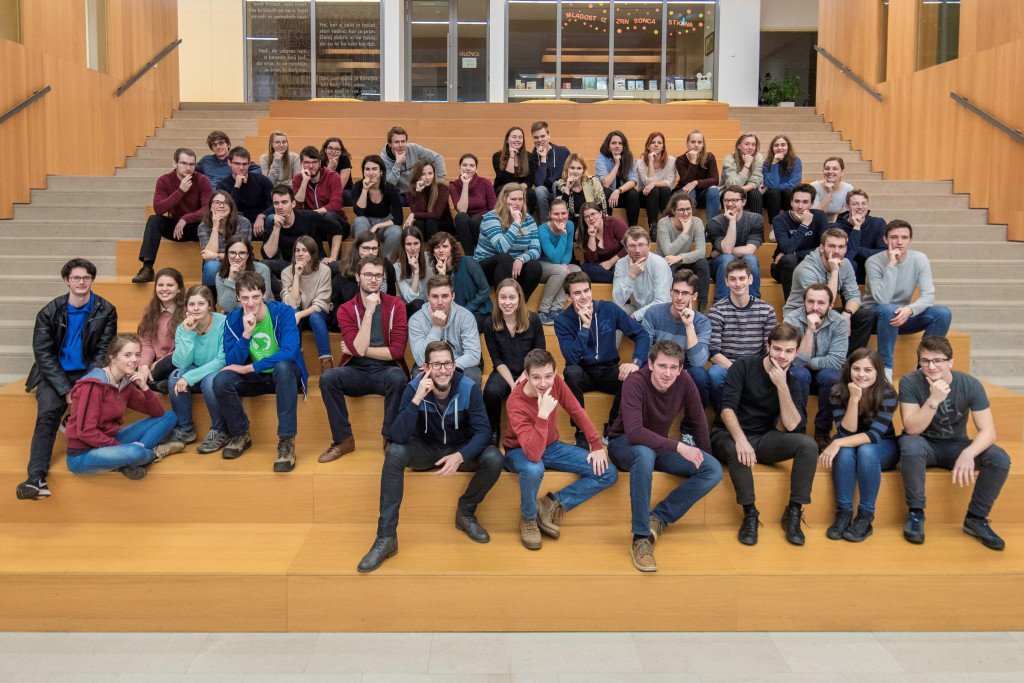 Megaron Chamber Choir unites former students of the Diocesan Classical Gymnasium at St. Stanislav's Institution in Ljubljana, who had before been active in various choral ensembles and received music education in one or more of the five choirs at the Diocesan Classical Gymnasium. The choir is distinguished by its recognizable rich sound and diverse repertoire and collaborates with many orchestras and guest conductors.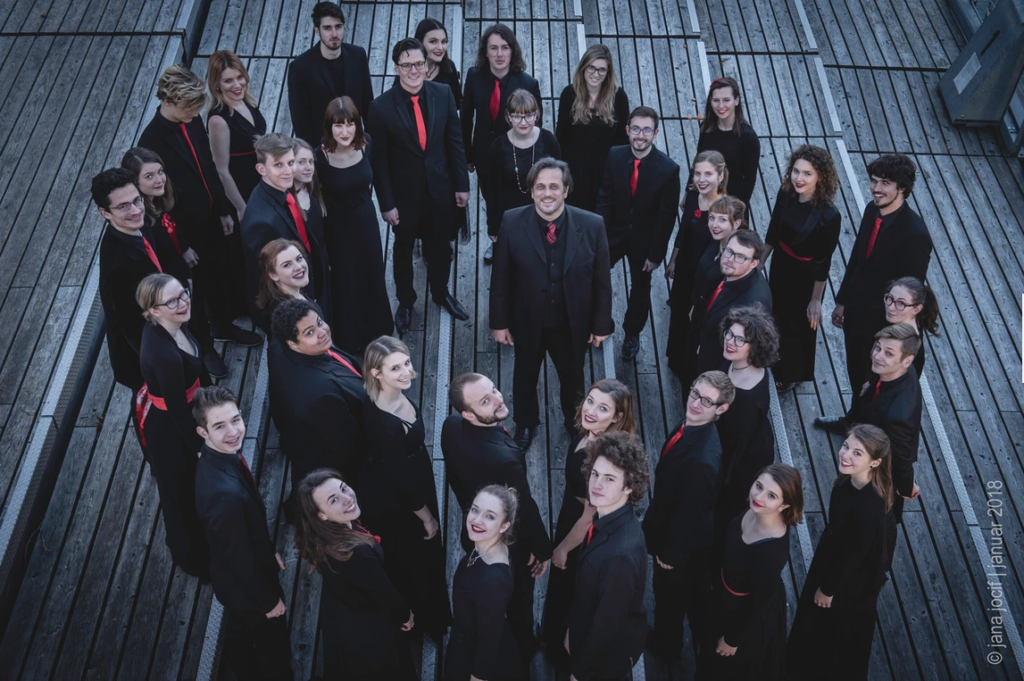 The KGBL Chamber Choir has become one of the most prominent Slovenian choirs and the most eager promoter of new compositions written by the young generation of Slovenian composers.
Programme performed together with Megaron Chamber choir: from the flourishing period of Slovene music in the 19th century to the poetics and timelessness of choral pieces by contemporary Slovene composers.
Concert: Thursday, 22 July 2021 at 17.00
Venue: Cankarjev dom, Gallus Hall
Repertoire
CHAMBER CHOIR MEGARON, Ljubljana
Conductor Damijan Močnik

Alojzij Mav (1898–1977): BODI NAM POZDRAVLJENA (Alojzij Mav)
Ed. Družina

Damijan Močnik (1967): JE ENO DETE ROJENO (medieval Christmas Carol from Carinthia/Austria)
Carus

Jacobus Handl – Gallus (1550–1591): PATER NOSTER, OM 1/69 (prayer)
Astrum

P. Hugolin Sattner (1851–1934): MARIJA, ČE GLEDAM TVOJ MILI OBRAZ (Elizabeta Kremžar) Ed. Družina

Josip Klemenčič (1892 –1969): POGLEJTE, DUŠE! (Carinthia, 1st half of the 19th century)
Ed. Družina
***
Benjamin Ipavec (1829–1908): EJ, TEDAJ... (Ljudmila Prunk – Utva)
ZKDS/JSKD

Anton Nedvěd (1829–1896): NAZAJ V PLANINSKI RAJ (Simon Gregorčič)
ZKDS/JSKD

Emil Adamič (1877–1936): ČE TI NE BOŠ MOJ (Slovenian folk text)
ZKDS/JSKD

Vilko Ukmar (1905 –1991): SKICA NA KONCERTU (Srečko Kosovel)
ZKDS/JSKD
***
Oskar Dev (1868–1932): STOJI HARTELC ZAHRAJEN (folksong from Carinthia)
ZKDS/JSKD

Pavle Merkù (1927–2014): JNJEN ČEUA JTI GNA (Slovene folksong from Resia Valley, IT)
Astrum

Damijan Močnik (1967): KOROŠKA LJUBEZEN (folksongs from Carinthia)
Astrum

Emil Adamič (1877–1936): KOLO (folksong from Bela krajina, South East Slovenia)
Astrum
CHAMBER CHOIR OF THE CONSERVATORY OF MUSIC AND BALLET LJUBLJANA
Conductor Ambrož Čopi

Andrej Makor (1987): POMILUI MYA, 2020
1. Ghospodi Iisusye Khristye (5th century prayer)
2. Spaseniye sodelal
Astrum

Klara Mlakar (1999): IZHE KHERUVIMI (orthodox hymn), 2021, new composition
Astrum

Črt Sojar Voglar (1976): BOGORODITSE DJEVO (prayer), 2020
Astrum

Tine Bec (1993): DELIVER ME O LORD (from the Office of the Dead), 2019
Astrum

Matej Kastelic (1994): SALVE REGINA (Marian antiphon), 2020, new composition
Astrum

Tadeja Vulc (1978): SINE SOLE NIHIL SUM (from Sundials), 2019
Unpublished, ©Tadeja Vulc

Uroš Krek (1922–2008): MLINI ŽIVLJENJA (Tea Rovšek Witzemann), 1984
JSKD

Lojze Lebič (1934): UROK (folk texts), 1986/2019
JSKD